Teaser Tuesday is a weekly bookish meme hosted by http://www.booksandabeat.com
Anyone can play along! Just do the following:
Grab your current read.
Open to a random page.
Share two or three *teaser* sentences from somewhere on that page.
Be careful not to include spoilers (make sure that what you share doesn't give to much away! You don't want to ruin the book for others!
Share the title and the author too, so that other TT participants can add the book to their TBR lists if they like your teasers!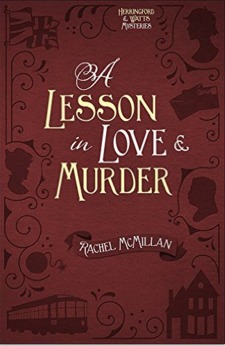 "A Lesson in Love & Murder," by Rachel McMillan is the second book I've read by this author. I've also read, "The Bachelor Girl's Guide to Murder."
"From political danger to personal drama, life is about to get explosive . . ." ~goodreads
"Merinda choked down the cup of Turkish coffee too quickly. She collected herself and exchanged a look with Jem before settling her eyes back on Benny. She was used to Jasper's open-book face across from her. But a man as tall and broad -shouldered as Benny surprised her."
Enjoy!