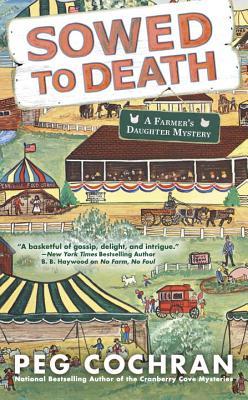 "A Farmer's Daughter Mystery"
Shelby is a widow, mother, farmer, creative cook, blogger and our amateur sleuth. When the firefighters discover a body during a demonstration of the jaws of life, Shelby's sleuthing skills, are once again, put to the test.
This is the second book in the series, the first one being, No Farm, No Foul. I did read the first book and I liked both of them.
I really like three of the characters in this series. I love Billy, Shelby's son. What a great kid!!! 🙂 He's all boy. His hair is always tousled and his cowlick sticks up, he runs around in bare feet so, his feet are always dirty. He loves horses and he's having the time of his life growing up on a farm. He's a fun, energetic mess.
Then of course, there's Bert!!! She knows everyone and she knows what you're doing before you do it!!! She's Shelby's friend and she helps Shelby in the kitchen, in the garden and with the kids. She's a piece of work. Love her!!!
And then there's Kelly, the veterinarian and Shelby's friend. She loves her job. She's home grown and down to earth. She's engaged to be married and I want to attend the wedding. What fun!!!
Add these three personalities to the remaining cast of characters, toss in a mystery and there you have it ~ good food, a farm, blogging and healthy living. ****4 stars on goodreads.
Happy Reading!